III International Italian Mandolin Academy
August 24th-31st, 2008
PDF version of this information
Carlo Aonzo and his collaborators invite expert and beginning mandolinists to an unforgettable musical holiday, with full immersion into the exciting sonorities of mandolin music.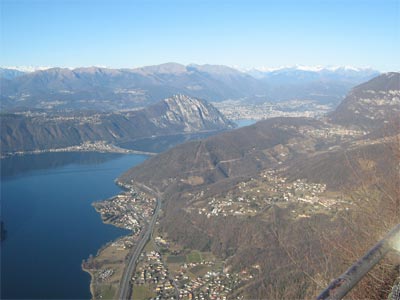 The International Mandolin Academy is proud to announce its third, annual, week-long mandolin course, which promises once again to be an intriguing and delightful cultural experience.
This year the Mandolin Academy will take place in the Italian-speaking part of Switzerland, the Ticino Canton, on the hills surrounding Lake Lugano, at an enchanting residence, located in a huge forest park. The site can be easily reached by the local airport as well as through both of Milanís airports.
Carlo Aonzo, world-renown mandolinist and founder of the Mandolin Academy, has been spreading the tradition of the Italian mandolin for many years. The idea for a full-immersion course in the land of the instrumentís origin came from the many mandolinists whom Maestro Aonzo met and taught during his world travels.
The two previous courses were held in his native Savona, a city with a rich heritage of plucked-string instruments. Now we will begin to discover other places where the mandolin tradition is alive and well. The Ticino Canton, with its 200,000 inhabitants, has 6 mandolin orchestras and the only surviving tradition of folk mandolin in northern Italy.
This course promises to be a unique musical experience that will offer cultural exchanges on a personal level.
The Academy is open to mandolin player of all levels, from beginners who never played before, to expert and accomplished instrumentalists. The study of music will be enhanced by various cultural events.
Besides the study of the mandolin, there will be a classical guitar course, taught by guitarist Katsumi Nagaoka, and an introduction to the construction of the Neapolitan (bowl back) Mandolin, by luthier Valentino Natolini.
The cost of the complete course, including food, lodging, concerts and all events, starts from 1050.- SFr .
For more info: email or visit the web site
Site Pictures: www.grappoli.ch
Tourist Information: www.ticino.ch
Also visit Carlo Aonzo's MySpace page